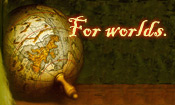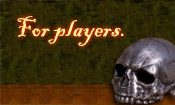 General: About the Confederation
Posted: Manuel @ Wed Dec 31, 1969 7:33 pm
The Confederation of Planes & Planets, or CoPaP for short, is a unique organization within the Neverwinternights Community. We are a group of autonomous persistent worlds (PW's) united by a special technology, and a common set of guidelines.

The techology we speak of is a unique plugin program for Neverwinternights Extender (NWNX) called VaultSTER. This extension of NWNX allows NWN persistent worlds to link together without suffering the adverse effects that are often seen when this is tried with other PW's who use networking tricks and Bioware's built-in technology. What this means is that a player character standing on Avlis PW, which runs on a server in New Jersey, USA, can walk seamlessly to Hala PW, Rockhome PW, Abyss404 PW and back again. All of these other worlds are located on separate networks, some as far away as Hawaii, USA, or even Europe and Asia.

Being able to connect autonomous worlds together seamlessly is only the beginning of CoPaP. The connections among these worlds are made to bring about a dream, where a person can log into a "super multiverse" of servers and have an endless range of things to do, people to see, and places to go for their character. However, randomly linking servers together without regard to their playerbase, rules, and makeup can be a recipe for big disaster. To combat this, and to ensure that the links are productive, fair, and smooth, we have developed a set of guidelines called The Articles of Confederation. The articles are merely a document that tell the servers who wish to be a part of CoPaP how to lay the foundation of their module in terms of experience advancement rate, gold drop rate, and how much magic is available in the world. These are things that we try to standardize among everyone so that way a player on one world will advance just as fast or slow as a player on another world in CoPaP. The same is true for magic items. The rarity of all magic is controlled and equalized everywhere. This gives a level playing field for all the worlds so they are equally travelled and explored by the playerbase.

This massive unification of servers seeks to grow all the time, and to add more worlds into the mix which portray different planets, areas of space, planes, or even official campaign settings, yet this unity is solidified by individuality. Each server that makes up CoPaP is its own entity. There is no one single person controlling all CoPaP servers. There is not even a single team controlling all of them. Each server in CoPaP has its own contact person or team leader, and its own set of builders, scripters, modelers, and DM's. Outside of the guidlines set forth in the Articles, each server is allowed to do whatever it wants and to take whatever direction in its development it sees fit. Even the Articles themselves are constantly evolving and changing to reflect the advancement of our knowledge in building and running connected PW's. So if you are considering joining us or playing in our super multiverse of realms, we encourage you to do so. Thank you for inquiring about us, and we hope to see you among us soon.
( Top )